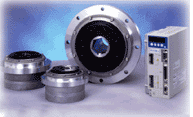 Actuators
These electromechanical actuators have many superior performance features including zero backlash, high accuracy, fast response time, high vacuum compatibility, and are available in a wide range of sizes, and hollow shaft designs. These servo actuators are easy to use and offer quick implementation.
They are compatible with most industry-standard controllers and amplifiers.
Servo actuators are an assembly of a brush or brushless servo motor, zero backlash Harmonic Drive™ strain wave gear, and a high capacity output bearing. These elements are contained within the housing.