The world of motion control transformed by a single invention

The unique principle of the strain wave gear was based on a brand new concept. The mechanism was the brainchild of the genius American inventor C. Walton Musser. Musser was a brilliant inventor who was awarded more than 200 patents, in a wide range of fields going even beyond his specialty in mechanical engineering to include also physics, chemistry, and biology. Prior to his invention of the harmonic gear, efforts to achieve greater speed and accuracy in gear mechanisms for conveying driving power and motion were focused solely on making the gear mechanism more rigid. The principle of harmonic gearing by contrast was to make use of the flexibility of metal and apply elastic dynamics. Since this method of conveying motive power turned conventional wisdom on its head, it suddenly became the object of worldwide interest. Two companies then stepped forward to commercializing this concept. One was the U.S. company United Shoe Machinery Corporation (USM), the forerunner of Harmonic Drive LLC and the other was the Japanese company, Hasegawa Gear Works, Ltd., the forerunner of Harmonic Drive Systems Inc.

Having served as certified engineer in the states of Pennsylvania and Massachusetts, Musser polished his skills at many universities including M.I.T. and the University of Pennsylvania, then went on to become a professional inventor, forming consultancy contracts with the U.S. Government and a number of companies such as General Motors, Olin Mathieson, and United Shoe Machinery.
During World War II, Musser's efforts paid off in the invention of the recoilless rifle. This invention was awarded 61 patents, and Musser personally oversaw its manufacture and prototype testing. Around the same period Musser developed many safety devices for aircraft including a cartridge driven catapult, canopy jettison system, and parachute release device. After the war, Musser went on to become the pioneer in the new field of mechanics actively introducing elastic deformation. For this mechanism he was awarded more than 70 patents in 15 countries. Among his other accomplishments are plastic products and elaborate testing and measuring equipment. His patents in the U.S. number more than 200, and many more of his patents have been announced in at least 28 countries.
Musser's life work is best expressed in the way he himself described his philosophy:
"It is never a question as to whether it can be done
— it is only whether one cares to spend the time and effort."
— C. Walton Musser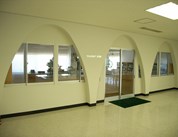 A Museum dedicated to C. W. Musser was opened in October 2006 in the Hotaka Plant site (Azumino­shi, Nagano, Japan) with exhibits relating to C. W. Musser. The items on display include machine tools and measurement instruments actually used by Musser, his papers, patent materials and prototypes around the time he invented the harmonic gear, and other objects, which were presented to Harmonic Drive thanks to the kindness of his surviving family. The entrance way arch, the wooden furniture in the hall, and the fixtures adopt a design modeled after his home, which he himself designed.
Click here to discover how zero-backlash Harmonic Drive® strain wave gearing works.