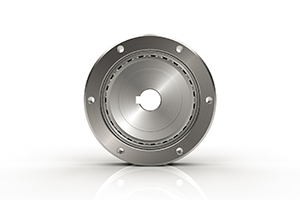 FB-32-157-2-GR
| Series | Size | Ratio | Type |
| --- | --- | --- | --- |
| FB | 32 | 157 | 2-GR |
FB component set consists of four elements:
Wave generator, an elliptical bearing assembly
Flexspline, a non-rigid ring with external teeth
Circular Spline, rigid internal gear
Dynamic Spline, rigid internal gear
How it works
Rotation of the Wave Generator imparts a rotating elliptical shape to the Flexspline causing progressive engagement of its external teeth with the internal teeth of the Circular Spline and the Dynamic Spline. The fixed Circular Spline has two more teeth than the Flexspline, thereby imparting relative rotation to the Flexspline at a reduction ratio corresponding to the difference in the number of teeth. With the same number of teeth, the Dynamic Spline rotates with and at the same speed as the Flexspline.
Gear Dimensions (see drawing)
Flange Dim A - Motor Adapter Flange Bore Dia.
{{foundMotor.flangeDimA}}
mm
Flange Dim B - Motor Adapter Flange Bore Depth
{{foundMotor.flangeDimB}}
mm
Motor Dim C - Motor Bolt Circle Dia.
{{foundMotor.dimC}}
mm
Flange Dim D - Bolt Size
{{foundMotor.flangeDimD}}
Coupling Dim F - Motor Coupling Bore Dia.
{{foundMotor.couplingDimF}}
mm
Mass
kg
Gear Performance Data
Rated Torque L10
82
Nm
Limit for Average Torque
118
Nm
Limit for Repeated Peak Torque
157
Nm
Limit for Momentary Peak Torque
235
Nm
Backdriving Torque
Nm
Ave. Input Speed
2,300
rpm
Gear Backlash
< 3
arc min
Mass
1
kg