SHA-CG Rotary Actuator
SHA-CG high precision actuators are a great alternative for direct drive motors. SHA-CG actuators offer direct drive motor performance in a compact, significantly lighter package. Ideal for high precision rotary applications such as indexing turn tables, the SHA-CG offers improved rotary positioning accuracy with surface runout less than 10 microns. Harmonic Drive® strain wave gear, motor and encoder are performance matched. The SHA Series is designed to operate with industry servo drives, as well as REL Series and HA-800 drives from Harmonic Drive.
Key Features:
(click to enlarge)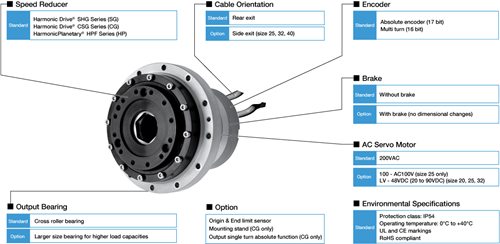 Manual

DXF CAD Files

PDF Drawings

3D CAD Files
Don't see what you need or not sure where to start?
Our team can help you find the right actuator for your application!

Optional Mounting Stand Available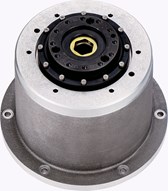 Ordering Code
| | | | | | | | | | | | | | | | | | | |
| --- | --- | --- | --- | --- | --- | --- | --- | --- | --- | --- | --- | --- | --- | --- | --- | --- | --- | --- |
| SHA | 32 | A | 100 | - | CG | B | 12 | A | 200 | - | 10 | S17b | A | - | C | L | - | SP |
| 1 | 2 | 3 | 4 | | 5 | 6 | 7 | 8 | 9 | | 10 | 11 | 12 | | 13 | 14 | | 15 |
1.
Type

SHA Series

2.
Size

20, 25, 32, 40

3.
Design Version

A - Standard
Y - Yaskawa compatible
M - Mitsubishi compatible
P - Panasonic compatible

4.
Gear Ratio

50, 80, 100, 120, 160

5.
Gearhead

CG - CSG Series

6.
Motor Version

B - Size 25, 32, 40
C - Size 20

7.
Motor Size

08 - SHA 20
09 - SHA 25
12 - SHA 32
15 - SHA 40

8.
Brake

A - No Brake
B - With Brake

9.
Voltage Rating

200 - 200V
100 - AC100V (Available in size 25)
LV - 48VDC (20 to 90VDC) (size 20)(size 25 & 32)

10.
Encoder Format

10 - A-Format (2.5Mbps, 1 to 1 connection)
00 - Incremental Encoder
14 - Panasonic Format
16 - Mitsubishi Format (Not available in size 20)
17 - Yaskawa Format (Not available in size 20)

11.
Encoder Resolution

S17b - 17bit Absolute encoder; (Nikon-A format)
D250 - Incremental encoder (size 25, 32, and 40)


12.
Encoder Offset Angle

The phase difference of the Motor U phase and the Absolute encoder origin
A - 0 degree
B - 30 degree

13.
Connector Specification

C - With standard Connectors (This is for extension cable)
N - With pigtails

14.
Option symbol

L - Origin & End Limit Sensor
Y - Side Exiting Cables
V - With mounting stand
S - Output shaft single revolution

15.
Special specification

Blank - Standard product




SP____ - Special specification code
Rating Table
(100V & 200V)
Size

(Voltage)

Ratio

Maximum
Torque
[Nm]
Maximum
Current
[Arms]
Continuous
Torque
[Nm]
Allowable
Continuous Current
[Arms]
Maximum
Speed
[rpm]

One-way




Positioning Accuracy




[arc-sec]

Servo Drive

Mass (w/brake)
[kg]
Engineering
Spec
20A (200VAC)
50
73
6.1
21
2.1
120

60




REL-230-18







HA-800□-3D/E-200







2.6 (2.7)





PDF


80
96
5.0
35
2.1
75
50
100
107
4.6
43
2.1
60
50
120
113
4.1
48
2.0
50
50
160
120
3.4
48
1.7
37.5
50
25A (100VAC)
50
127
15.1
34
4.7
96
50



REL-230-36






HA-800□-6D/E-100



3.95 (4.1)

PDF
80
178
13.2
57
4.7
60
40
100
204
12.2
72
4.7
48
40
120
217
11.0
81
4.5
40
40
160
229
9.0
81
3.7
30
40

REL-230-18

25A (200VAC)
50
127
8.7
40
3.0
112
50

REL-230-18

HA-800□-3D/E-200

3.95 (4.1)

80
178
7.6
66
3.0
70
40
100
204
7.0
81
3.0
56
40
120
217
6.3
81
2.6
46.7
40
160
229
5.2
81
2.1
35
40
32A (200VAC)
50
281
17.7
90
6.0
96
40

REL-230-36

HA-800□-6D/E-200

7.7 (8.0)

PDF
80
395
15.4
151
6.0
60
30
100
433
13.7
178
5.7
48
30
120
459
12.2
178
5.0
40
30
160
484
10.0
178
4.1
30
30

REL-230-18

40A (200VAC)
50
333
18.0
92
6.0
80
40

REL-230-36

HA-800□-6D/E-200

13 (13.80)

PDF
80
548
18.0
156
6.0
50
30
100
686
18.0
196
6.0
40
30
120
802
17.6
235
6.0
33.3
30
160
841
14.3
315
6.0
25
30

REL-230-36

40A (200VAC)


50
523
27.2
157
9.0
80
40

REL-230-40

HA-800□-24D/E-200

13 (13.80)

80
675
22.0
260
9.0
50
30
100
738
19.6
327
9.0
40
30
120
802
18.0
382
8.8
33.3
30
160
841
14.7
382
7.2
25
30

REL-230-36
Low Voltage, 48VDC (20 to 90VDC)
Size (Voltage)

Ratio

Maximum


Torque
[Nm]

Maximum


Current
[Arms]

Continuous


Torque
[Nm]

Allowable


Continuous Current
[Arms]

Maximum


Speed
[rpm]

One-way




Positioning Accuracy




[arc-sec]

Servo Drive

Mass (w/brake)


[kg]
Engineering
Spec

20A (20-90VDC)

50
67
14.9
15.6
4.7
64
60

BEL or BPL-090-30

2.6 (2.7)

PDF



80
96
13.3
26.3
4.7
40
50
100
107
12.1
33.0
4.7
32
50

BEL or BPL-090-14

120
113
10.9
39.8
4.7
27
50
160
120
9.1
48.0
4.4
20
50

25A (20-90VDC)

50
98
25.5
27
8.5
77
50

BEL or BPL-090-30

4.1 (4.3)

PDF

80
161
25.5
45
8.5
48
40
100
201
25.5
57
8.5
38
40
120
217
23.2
68
8.5
32
40
160
229
19.0
81
7.9
24
40

32A (20-90VDC)

50
143
25.5
35
8.5
51
40

7.7 (8.0)

80
235
25.5
60
8.5
32
30
100
295
25.5
76
8.5
25
30
120
354
25.5
92
8.5
21
30
160
473
25.5
124
8.5
16
30