SHA-SG Rotary Actuator
SHA-SG Series AC Servo Actuators provide high torque and highly accurate rotary operation.
These hollow shaft servo actuators utilize Harmonic Drive® precision strain wave gears combined with a brushless servomotor and magnetic absolute encoder. The SHA Series is an advanced version of the FHA series AC Servo Actuators, featuring a larger hollow shaft with a smaller, outside diameter. The SHA Series is designed to operate with industry servo drives, as well as REL Series and HA-800 drive from Harmonic Drive.
Key Features:
High torque
Compact, slim design
Large center through hole
Low voltage winding, 20VDC to 90VDC available for sizes 20, 25, 32.
Connects directly with Mitsubishi Electric's MELSERVO-J4 SSCNETⅢ/H, see brochure, see manual
Connects directly with Σ-7 servo drives from Yaskawa, see brochure, see manual
Connects directly with MINAS A5II/A5IIN series from Panasonic
Also available to order as a motor only
NEW, size 45 added to the lineup
Safety Standard: EN60034-1:2010, EN60034-5
(click to enlarge)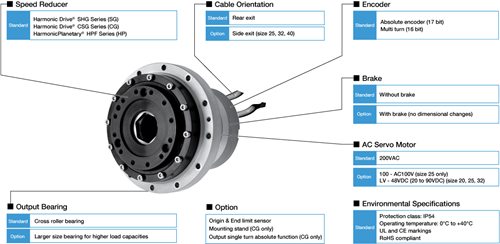 Manual

DXF CAD Files

PDF Drawings
Don't see what you need or not sure where to start?
Our team can help you find the right actuator for your application!

Ordering Code
| | | | | | | | | | | | | | | | | | | |
| --- | --- | --- | --- | --- | --- | --- | --- | --- | --- | --- | --- | --- | --- | --- | --- | --- | --- | --- |
| SHA | 32 | A | 101 | SG | - | B | 12 | A | 200 | - | 10 | S17b | A | - | C | L | - | SP |
| 1 | 2 | 3 | 4 | 5 | | 6 | 7 | 8 | 9 | | 10 | 11 | 12 | | 13 | 14 | | 15 |
1.
Type

SHA Series

2.
Size

20, 25, 32, 40, 45, 58, 65

3.
Design Version

A - Standard
Y - Yaskawa compatible
M - Mitsubishi compatible
P - Panasonic compatible

4.
Gear Ratio

11 (size 25 & 32), 51, 81, 101, 121, 161

5.
Gearhead

SG - SHG Series
HP - HPF Planetary Series (size 25 & 32)

6.
Motor Version

A - Size 58, 65
B - Size 25, 32, 40
C - Size 20

D - Size 45

7.
Motor Size

08 - SHA 20
09 - SHA 25
12 - SHA 32
15 - SHA 40

16 - SHA 45
21 - SHA 58, 65

8.
Brake

A - No Brake
B - With Brake

9.
Voltage Rating

200 - 200V
100 - AC100V (Available in size 25)
LV - 48VDC (20 to 90VDC) (size 20) (size 25 & 32)

10.
Encoder Format

10 - A-Format (2.5Mbps, 1 to 1 connection)
00 - Incremental Encoder
14 - Panasonic Format
16 - Mitsubishi Format (Not available in size 20)
17 - Yaskawa Format (Not available in size 20)

11.
Encoder Resolution

S17b - 17bit Absolute encoder; (Nikon-A format)
D250 - Incremental encoder (size 25, 32 and 40)

12.
Encoder Offset Angle

The phase difference of the Motor U phase and the Absolute encoder origin.
A - 0 degree
B - 30 degree

13.
Connector Specification

C - With standard Connectors (This is for extension cable)
N - With pigtails

14.
Option symbol

L - Origin & End Limit Sensor (not available on size 20)
Y - Side Exiting Cables

15.
Special specification

Blank - Standard product
SP____ - Special specification code
Rating Table
(100V & 200V)
Size (Voltage)

Ratio

Maximum
Torque
[Nm]
Maximum
Current
[Arms]
Continuous
Torque
[Nm]
Allowable
Continuous Current
[Arms]
Maximum
Speed
[rpm]
One-way
Positioning Accuracy
[arc-sec]
Servo Driver


Mass (w/brake)
[kg]
20A (200VAC)
51
73
6.0
21
2.1
117.6
60
REL-230-18

HA-800□-3D/E-200

2.0 (2.1)
81
96
4.9
35
2.0
74.1
50
101
107
4.5
43
2.0
59.4
50
121
113
4.0
48
1.9
49.6
50
161
120
3.4
48
1.6
37.3
50
25A (100VAC)
51
127
14.9
35
4.7
94.1
50
REL-230-36

HA-800□-6D/E-100

2.95 (3.1)
81
178
13.0
58
4.7
59.3
40
101
204
12.1
73
4.7
47.5
40
121
217
10.9
81
4.5
39.7
40
161
229
9.0
81
3.7
29.8
40
REL-230-18
25A (200VAC)



11
26
8.9
9.0
3.0
509.1
120



REL-230-18







HA-800□-3D/E-200




5.0 (5.1)
51
127
8.6
41
3.0
109.8
50

2.95 (3.1)

81
178
7.5
67
3.0
69.1
40
101
204
7.0
81
2.9
55.4
40
121
217
6.3
81
2.6
46.3
40
161
229
5.2
81
2.1
34.8
40
32A (200VAC)
11
62
19
20
6.0
436.4
120




REL-230-36









HA-800□-6D/E-200






9.4 (9.7)
51
281
17.3
92
6.0
94.1
50
5.9 (6.2)
81
395
15.2
153
6.0
59.3
40
101
433
13.5
178
5.7
47.5
40
121
459
12.2
178
5.0
39.7
40
161
484
9.9
178
4.1
29.8
40

REL-230-18

40A (200VAC)
51
340
18
94
6.0
78.4
50
-

HA-800□-6D/E-200

9.9 (10.7)
81
560
18
158
6.0
49.4
40
101
656
18
198
6.0
39.6
40
121
802
17.9
237
6.0
33.1
40
161
841
14.6
317
6.0
24.8
40

40A (200VAC)

Used with HA-800□-24D/E (rated output current: 24A)

51
523
26.7
160
9.0
78.4
50
REL-230-40

HA-800□-24D/E-200

9.9 (10.7)

81
675
21.8
263
9.0
49.4
40
101
738
19.4
330
9.0
39.6
40
121
802
17.9
382
8.8
33.1
40
REL-230-36
161
841
14.6
382
7.2
24.8
40
45A (200VAC)
51
650
36.5
174
10
74.5
40
-



HA-800□-24D/E-200

12.4 (13.2)
81
918
29.9
290
10
46.9
40
101
982
25.9
363
10
37.6
40
REL-230-40
121
1070
24.5
437
10
31.4
40
REL-230-40
161
1147
19.3
523
9.2
23.6
40
REL-230-36
58A (200VAC)
81
1924
45
714
17.7
37.0
40

REL-230-40

HA-800□-24D/E-200

29.5 (32)
101
2067
39
905
17.8
29.7
40
121
2236
36
969
16.4
24.8
40
161
2392
30
969
13.4
18.6
40
65A (200VAC)
81
2400
55
921
22.0
34.6
40

HA-800□-24D/E-200

37.5 (40)
101
2990
55
1149
21.9
27.7
40
121
3263
51
1236
20.1
23.1
40
161
3419
41
1236
16.3
17.4
40
Low Voltage, 48VDC (20-90VDC)
Size (Voltage)

Ratio

Maximum


Torque
[Nm]

Maximum


Current
[Arms]

Continuous


Torque
[Nm]

Allowable


Continuous Current
[Arms]

Maximum


Speed
[rpm]

One-way




Positioning Accuracy




[arc-sec]

Servo Drive*

Mass (w/brake)


[kg]
Engineering
Spec

20A (20-90VDC)

51
68
14.9
16.0
4.7
63
60

BEL or BPL-090-30

2.0 (2.1)

PDF



81
96
13.2
26.6
4.7
40
50
101
107
12.0
33.4
4.7
32
50
121
113
10.8
40.2
4.7
27
50
161
120
9.1
48.0
4.4
20
50

25A (20-90VDC)

51
100
25.5
28
8.5
75
50

3.1 (3.3)

PDF

81
163
25.5
46
8.5
47
40
101
204
25.5
57
8.5
38
40
121
217
23.2
69
8.5
32
40
161
229
19.0
81
7.8
24
40

32A (20-90VDC)

51
146
25.5
37
8.5
50
50

5.9 (6.2)

81
238
25.5
61
8.5
31
40
101
298
25.5
77
8.5
25
40
121
357
25.5
93
8.5
21
40
161
477
25.5
126
8.5
16
40