FHA-C Rotary Actuator
These rotary servo actuators utilize Harmonic Drive® precision gears combined with a performance matched brushless servo motor and incremental encoder. The FHA has a low profile form factor and features a hollow shaft through the center of the output. This hollow shaft feature may be used to pass cables, tubing or lasers through the axis of rotation.
The FHA series is designed to operate with a wide range of third-party drivers, as well as Harmonic Drive LLC's DDP Series and RTL Series.
Key Features:
Zero backlash
New ratios added: 80:1 & 120:1
High torque
Large center through hole
Compact cylindrical design
Availability of a series of multifunctional control units
Driver Communication - DDP & RTL (CANopen®), REL (EtherCat®) & HA-800 (available for MechatroLink™ and CC-Link®)
Safety Standard: EN60034-1:2010

Manual

FHA 17 24V Spec Sheet

DXF CAD Files

PDF Drawings
Don't see what you need or not sure where to start?
Our team can help you find the right actuator for your application!

---
Ordering Code
| | | | | | | | | | | | |
| --- | --- | --- | --- | --- | --- | --- | --- | --- | --- | --- | --- |
| FHA | - | 17 | C | - | 50 | - | US250 | - | B | - | SP |
| 1 | | 2 | 3 | | 4 | | 5 | | 6 | | 7 |
1.
Model

FHA-C Series

2.
Size

17, 25, 32, 40

3.
Design Version

C

4.
Gear Ratio

50, 80, 100, 120, 160

5.
Encoder Specification

US250 - Incremental encoder with 14 wire 2500p/rev
E250 - Incremental encoder with 4 wire 2500p/rev

6.
Option symbols

Please refer to the table below for available options

7.
Special specification

Blank - Standard product
SP____ - Special specification code
Available Options
| | |
| --- | --- |
| Symbol | Detail |
| A | 100VAC power supply (Available for size 17,25, and 32) |
| B | With Brake |
| L | Position sensors |
| C | With connectors |
| K | Rear exiting cable |
| F5 | 5 meter cables for each motor cable and encoder cable |
| E | 24VDC power supply (Size 17 only) |
Specifications
Item / Model
FHA-17C
FHA-25C
FHA-32C
FHA-40C
Gear Ratio
50
80
100
120
160
50
80
100
120
160
50
80
100
120
160
50
80
100
120
160
Max torque
Nm
39
51
57
60
64
150
213
230
247
260
281
364
398
432
453
500
659
690
756
820
Max Speed of Rotation
rpm
96
60
48
40
30
90
56
45
37
28
80
50
40
33
25
70
43
35
29
22
Torque Constant 200VAC
Nm/Arms
21
33
42
50
67
22
36
45
54
72
27
43
54
64
86
31
51
64
76
102
Torque Constant 100VAC
Nm/Arms
11
17
21
25
33
11
17
22
26
36
16
26
33
39
52
-
-
-
-
-
Moment of Inertia(GD2/4)
kg.m2
0.17
0.43
0.67
0.97
1.7
0.81
2.1
3.2
4.7
8.3
1.8
4.5
7.1
10.2
18.1
4.9
12.5
19.5
28.1
50
Allowable radial load
kN
2.9
4.9
9.5
14.7
Allowable axial load
kN
9.8
14.7
24.5
39.2
Allowable moment load
Nm
188
370
530
690
Moment stiffness
Nm/rad
220 x 103
490 x 103
790 x 103
1,400 x 103
One-way Positioning accuracy
arc/sec
60
40
40
40
40
40
30
30
30
30
40
30
30
30
30
40
30
30
30
30
Quad encoder resolution * 1
counts/rev
500.0K
800.0K
1.0M
1.2M
1.6M
500.0K
800.0K
1.0M
1.2M
1.6M
500.0K
800.0K
1.0M
1.2M
1.6M
500.0K
800.0K
1.0M
1.2M
1.6M
No. of Poles
12
12
12
12
Mass
kg
2.5
4.0
6.5
12
Recommended Drives
100VAC
RTL-230-18
REL-230-18
RTL-230-36
REL-230-36
RTL-230-18
REL-230-18
RTL-230-36
REL-230-36
RTL-230-18
REL-230-18
−
200VAC
RTL-230-18
REL-230-18
RTL-230-36
REL-230-36
RTL-230-18
REL-230-18
24VDC
DDP-090-36
−
−
−
100VAC
HA-800A-3B-100
HA-800A-6B-100
200VAC
HA-800A-3B-200
HA-800A-6B-200
CAD Downloads
PDF DXF
PDF DXF
PDF DXF
PDF DXF
Refer to the FHA-C User Manual and FHA-17C 24V spec sheet for more details
*1:Quad encoder resolution is calculated by (Motor shaft resolution) x4x (Reduction ratio)
**** Driver Communication - DDP & RTL (CanOpen®), REL (EtherCat®) & HA-800 ( available for MechatroLink™ and CC-Link®)
Outline Drawing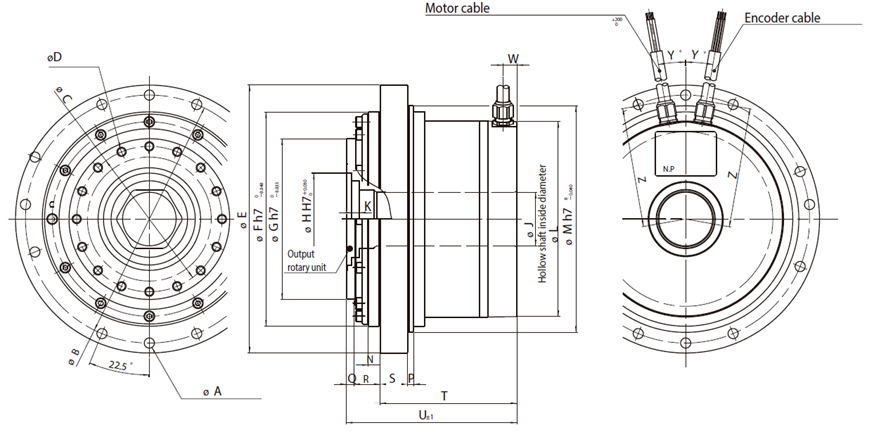 Dimensions
Unit: mm
Model
A
øB
øC
D
øE
øF h7
øG h7
øH H7
øJ
K
øL

FHA-17C

6-ø5.5
118
60
6-M5
Depth 8
128
105
70
25
18
3.5
106

FHA-25C

8-ø6.6
142
74
8-M6
Depth 10
155
125
85
42
32
5.7
123

FHA-32C

12-ø6.6
162
95
16-M6
Depth 10
175
140
105
60
35
5
129

FHA-40C

8-ø11
208
112
8-M10
Depth 15
230
185
130
60
45
7.6
164
Model
øM h7
N
P
Q
R
S
T
U
W
Y
Z

FHA-17C

108
6.6
4
5
16
12

45
*60.5

78
*93.5
8.5
12
under-68

FHA-25C

128
10.7
4
5
20
15
65.5
*85
90.5
*110
9
10
under-77

FHA-32C

148
7.7
4
5
17
18
89.5
*110
111.5
*132
9
9
under-80

FHA-40C

185
11.1
8
7
23
22
97
*118
127
*148
9
10
under-100

*1: Actuators are available with brake or without brake.
The value with * is for specification with a brake.

Please confirm dimensions and specifications with the drawing issued by Harmonic Drive LLC