FHA-C H Rotary Actuator
FHA-C Series servo actuators are now available with IP65 protection. Four sizes are available: 17, 25, 32 and 40. The IP65 rated FHA-C actuator is ideal for harsh environments. With IP65 and 480V, the FHA actuator is well suited for machine tool, packaging, and wash-down applications.
These rotary servo actuators utilize Harmonic Drive® precision strain wave gears combined with a performance matched brushless servo motor. Encoder options now include EnDat® & HIPERFACE®. The FHA has a low-profile form factor and features a hollow-output shaft. This hollow shaft feature may be used to pass cables, tubing or lasers through the axis of rotation.
The FHA series is designed to operate with a wide range of third-party servo drives including Bosch, Mitsubishi, Siemens, and Kollmorgen. REL Drive also compatible at approximately half speed.
Zero Backlash
Reduction Ratio 50:1, 100:1, 16-:1
IP65 Rating
480VAC
EnDat® & HIPERFACE® Encoder Protocols
DESINA style flex rated cables
Safety Standard: EN60034-1:2010, EN60034-5


Catalog
Don't see what you need or not sure where to start?
Our team can help you find the right actuator for your application!

---
Ordering Code
| | | | | | | | | | | | | | | | |
| --- | --- | --- | --- | --- | --- | --- | --- | --- | --- | --- | --- | --- | --- | --- | --- |
| FHA | - | 17 | C | - | 50 | - | H | - | B | - | SE032SC | - | KP | - | SP |
| 1 | | 2 | 3 | | 4 | | 5 | | 6 | | 7 | | 8 | | 9 |
1.
Model

FHA-C Series

2.
Size

17, 25, 32, 40

3.
Design Version

C

4.
Gear Ratio

50, 100, 160

5.
Winding Voltage

H - 680VDC

6.
Brake

Blank - without brake
B - with brake

7.
Motor Feedback

SE032SC - EnDat2.1 with Sin-Cos; Single turn absolute

SE19b22 - EnDat2.2 (Full digital); Single turn absolute

ME19b22 - EnDat2.2 (Full digital); Battery buffered multi turn absolute

SH064SC - HIPERFACE; Single turn absolute

MH064SC - HIPERFACE; Multi turn absolute

8.
Options

K - Rear exiting cable (Standard: Side Exit)
P - IP65 (Standard: IP44 )
R - Pilot Diameter – Rear (Standard: Pilot Diameter – Front)
T - Temperature sensing within EnDat 2.2 (Standard: separate conductors within feedback cable)

9.
Special specification

Blank - Standard product
SP____ - Special specification code
Specifications
Item / Model
FHA-17C-H
FHA-25C-H
FHA-32C-H
FHA-40C-H
Gear Ratio
50
100
160
50
100
160
50
100
160
50
100
160
Max torque
Nm
39
57
64
151
233
261
281
398
453
500
686
823
Max Current
Arms
1.4
1.1
.8
3.9
3
2.2
6.5
4.7
3.5
9.3
6.4
5
Continuous Torque

Nm

15
23
23.2
40
72
90
60
153.5
240
90
234
400
Continuous Current

Arms

.65
.55
.45
1.3
1.3
1.25
2
2
1.9
2.4
2.4
2.4
Max Speed of Rotation
rpm
96
48
30
90
45
28
80
40
25
70
35
22
Motor EMF Constant
(Line-Line)
Vrms/(krpm)
50
57
67
80
Vrms/(rad/s)
0.48
.55
.64
0.77
Phase Resistance
(20°C, Line-Line)
Ω
64
22.4
7.8
5.6
Phase Inductance
(Line-Line)
mH
42
20
9.8
11.2
Torque Constant 680VDC
Nm/Arms
37
75
120
42
86
138
49
100
160
59
120
193
Moment of Inertia(GD2/4)
kg.m2
.21
0.83
2.1
.90
3.5
9.2
2.1
8.2
21
5.5
22
56
Allowable radial load
kN
2.9
4.9
9.5
14.7
Allowable axial load
kN
9.8
14.7
24.5
39.2
Allowable moment load
Nm
188
370
530
690
Moment stiffness
Nm/rad
220 x 103
490 x 103
790 x 103
1,400 x 103
One-way positioning accuracy
arc/sec
60
40
40
40
30
30
40
30
30
40
30
30
Feedback Type
Single-turn absolute (EnDat
and HIPERFACE) Multi-turn
absolute (EnDat)
Single-turn absolute (EnDat
and HIPERFACE) Multi-turn
absolute (EnDat)
Single-turn absolute (EnDat
and HIPERFACE) Multi-turn
absolute (EnDat)
Single-turn absolute (EnDat
and HIPERFACE) Multi-turn
absolute (EnDat)
Quad Encoder resolution * 1
p/rev
500.000
1.000.000
1.600.000
500.000
1.000.000
1.600.000
500.000
1.000.000
1.600.000
500.000
1.000.000
1.600.000
No. of Pole Pairs
6
6
6
6
Motor Inertia
(without brake)*2
EnDat
1.37
3.95
7.63
19.3
HIPERFACE
1.44
3.65
7.33
19.3
Motor Inertia
(with brake)*2
EnDat

1.66

4.84
9.00
21.9
HIPERFACE
1.73
4.54
8.69
21.9
Mass
kg

3.3
4.6
6.8
10.8
Mass w/brake
3.7
5.4
7.7
12.8
Optional Mating Cable
M17

Motor Cable Part Number: 1590657-02/05/10

Feedback Cable Part Number: 1590658-02/05/10

(02=2m, 05=5m, 10=10m)
*1:Quad Encoder resolution is calculated by (Motor shaft resolution) x4x (Reduction ratio)
*2 Inertia shown in this table is at input side. To convert to output side, multiply the inertia by (ratio)2
---
Dimensions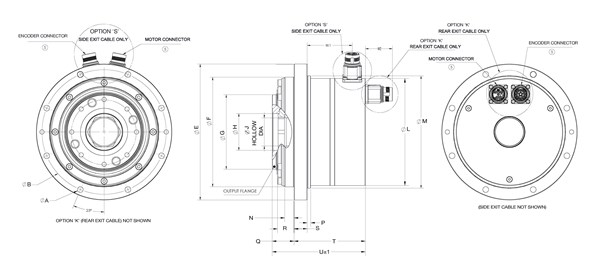 ITEM / MODEL
FHA-17C-H
FHA-25C-H
FHA-32C-H
FHA-40C-H
A
6-ø5.5-5.7
8-ø6.6-7.0
12-ø6.6-7.0
8-ø11-11.4
ØB
118
142
162
208
ØC
60
74
95
112
D

6-M5
Depth 8

8-M6
Depth 10
16-M6
Depth 12
8-M10
Depth 15
ØE
128
155
175
230

ØF h7 (standard)

ØF +0.5/- 0 (R option)

105
125
140
185
ØG h7
70
85
105
130
ØH H7
25
42
60
60
ØJ +/-1
18
32
35
43
ØL
106 (108*6 )
123
140
163

ØM + 0.5/- 0 (standard)

ØM h7 (R option)

108
128
148
185
N
6.6
10.7
7.7
11.1
P
4
4
4
8
Q
21
25
22
30
R
15.5
16.7*1
20
20.5*1
17
17.6*1
23
21.1*1
S
12
15
18
22
T
84.5
100*2
81.5
107.5*2
107
133*2
113.8
134.8*2
U
105.5
121*2
106.5
132.5*2
129
155*2
143.8
164.8*2
W1*3
49
64*2
52
77*2
71
97*2
71.7
92.7*2
W2*4
31
31
31
31
*1) With option "P" IP65 output seal
*2) With brake
*3) Side connectors
*4) Option "K" rear connectors
*5) Connector positions are swapped for SH064SC encoder option
*6) Dimension for SH064SC option only